Toddler Halloween Crafts To Make And Enjoy
No drawing ability required ;)
This page has some toddler Halloween crafts you can do either with your child or a group of youngsters under the age of four.
Here are the step-by-step projects you will learn how to do
Flying bat
Masks (frog, Scooby Doo, Tinkerbell)
Bookmarks
Halloween shapes for decoration or a treasure hunt
I have road tested these ideas with my own children, one of whom is a very lively three-year-old!
However, I also found that my 6-year-old enjoyed these mini projects too.
I learned some valuable lessons about saving my sanity, which I have passed on to you below.
...Or if you prefer to get straight into some practical ideas, just click on the links below.
Try A Flying Bat For Your
Toddler Halloween Crafts List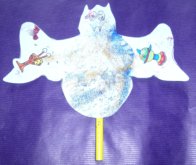 How to make a flying bat with your toddler Halloween crafts hour, one that is fun - not frightening.
Click here for full step- by - step instructions.
Halloween Masks
Tinkerbell, Scooby Doo, a frog or a kitten - all simple and gentle 'masks' that your child can play peek-a-boo with.
Click here for full step- by - step instructions.
Halloween Shapes
For decoration...or a treasure hunt
There are more tips about this if you click here
Halloween Bookmarks
Any of these bookmarks are really easy to make, and are nice presents for friend and relatives.
Just take some black or orange (or purple) card, cut a 4cm strip and then decorate!
I used a wizard hat from
this coloring page - you could colour it with your child, but I chose not to.
I also found some Halloween confetti in a cheap store for less than 
£1 /$1. Following my 'it must be non scary' rule, I decided that tiny ghosts, witches and bats were allowed!
IMPORTANT: when you're finished making the bookmarks, it's a good idea to brush a layer of PVA glue over to seal all the confetti in.
Here's all the materials I used to make these bookmarks:
A Gentle Halloween
There is a theme running through all the Halloween pages on this site - the idea of creating a non-scary experience on 31 October for your toddler.
It's hard for us adults to understand that a skeleton costume or a grinning little pumpkin can be frightening for little children. As a toddler mom myself, I have witnessed my kids petrified and trembling under the table at… tomato stalks (my eldest thought it was a spider) and devastated tears when Thomas the Tank Engine got derailed in the snow one day.
However, you don't have to just stick to boring old pictures of pumpkins. There are lots of ways to tone down the traditional images of the season, as you'll see from the ideas above
Stress Free Crafts
it's really important when doing any craft activity to take into account the fact that it can be quite messy. If this season is quite frantic for you, you might want to consider what type of craft activities you do with your child.
I myself attempted to make a frog mask with my three-year-old, who was so entranced by the green paint that he ended up looking like the Riddler! Needless to say we didn't get very far with the mask. 

To Help Busy Mums and Dads Here Are Some Related Shopping Items
When you purchase from this link, you are actually purchasing from Amazon.com, and you can have peace of mind that your order will be processed by Amazon's secure order server.