Pro Toy Figure Zing Stikbot Studio
One Of The Hottest Toys This Year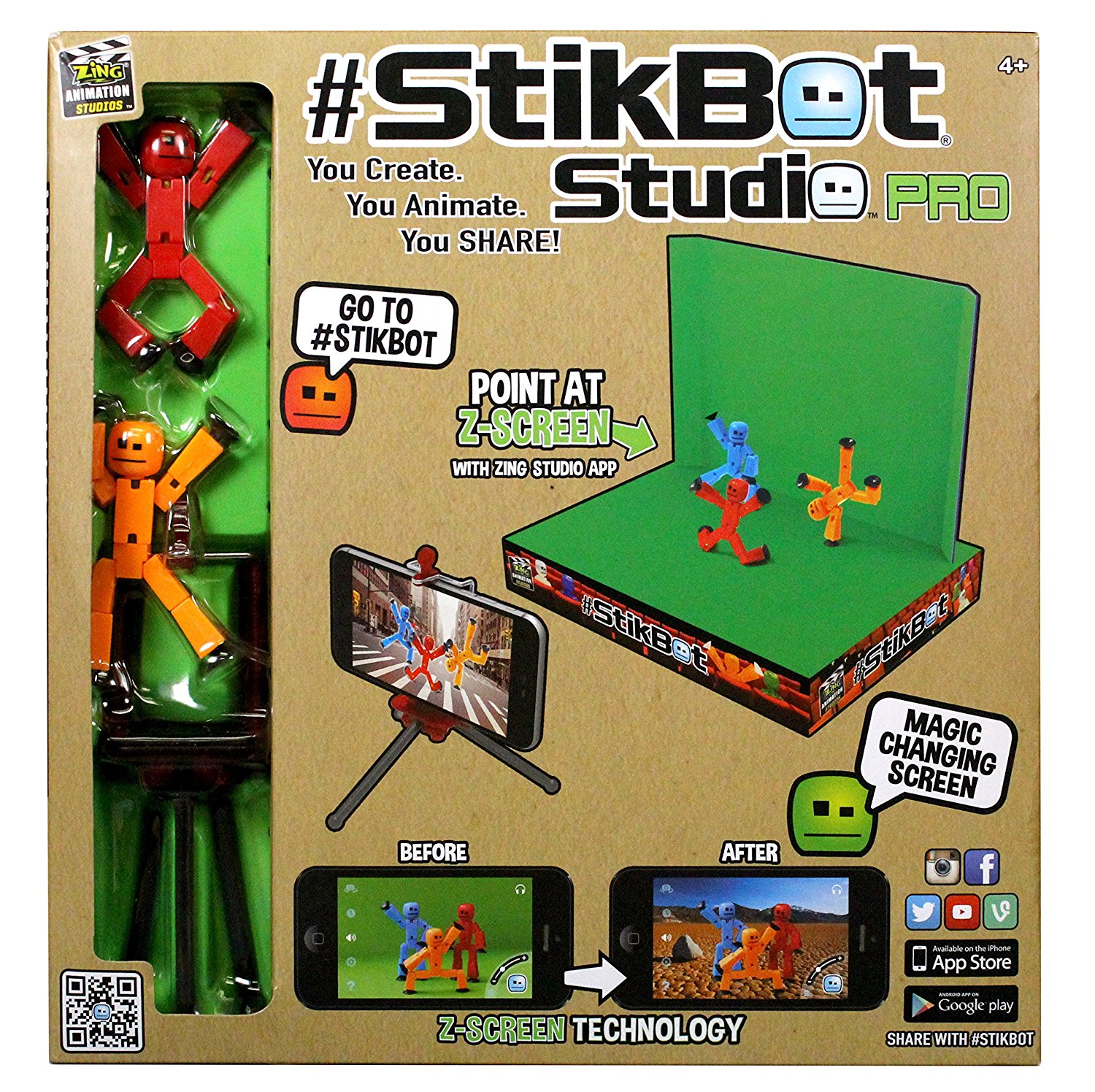 Pro Toy Figure Zing Stikbot Studio
If you're trying to think of a great toy gift for a 4-year old (and up), look no farther than the Zing Stikbot Studio Pro. It's creative, fun and a wonderful learning experience to introduce a child to all the intricacies of movie-making.
Simply download the free mobile app, Stikbot Studio and begin your movie with the star of the show – Stikbot. Stikbot can be whoever you choose – a superhero, rockstar or anything your imagination wants him to be.
Zing Stikbot Studio Pro comes with a tripod, two stikbots (red and orange) and a two-in-one stage green and the other blue. With the green screen you can choose and capture videos and photos and cut down on the editing time.
Pose The Pro Toy Figure Then Begin Your Movie
Pose the stikbots exactly the way you want them and then begin your movie. Then, simply cut and edit until you create the movie sequence you want. The background of the scene can be digitally recreated and you can even add sound by using your own voice or one of the available sound effects.
The reversible screen (two boxes) comes in green or blue and the two stikbot figures in the set come with suction cup accessories so you can make moves extreme by making them move, jump and much more by moving their appendages.

Even a four year old can make movies like a pro and learn some of the technology involved. Toys today are considered learning tools for children and the Zing Stikbot Studio Pro will challenge their skills and tweak their imaginations.

Zing Stikbot is so easy to use that you'll be amazed at how fast your child learns how to make movies and manipulate the figures and sound to get exactly the effects he wants. They can even share their movies through social media with their friends – exchanging ideas and other information.
Eventually, your child will begin to insert other objects into the movies – such as LEGO minifigs. And, you can take the fun with you wherever you go. The stikbots are able to stick to almost any surface – windows, books or tables – and can fit easily into a backpack.

Other Stikbot sets you can purchase to enhance the experience include The Toy Shed Stikbot DLX Toy Figure, the Zing Stikbot 8 clear figures (in pink, clear, orange, blue, dark green, light green, red and brown). This set also comes with a tripod.

You'll never regret introducing your child to the Zing Stikbot Studio Pro Toy set. It's both a learning experience and tons of fun for any child with a vivid imagination and love of stikbots.

10 Of The Hottest Toys From This Years Toy Fair
Held In New York
Read The Reviews Before You Buy

To Help Busy Mums and Dads Here Are Some Related Shopping Items
When you purchase from this link, you are actually purchasing from Amazon.com, and you can have peace of mind that your order will be processed by Amazon's secure order server.