The LEGO Creative Boost Toolbox provides a unique coding experience
Read Our Review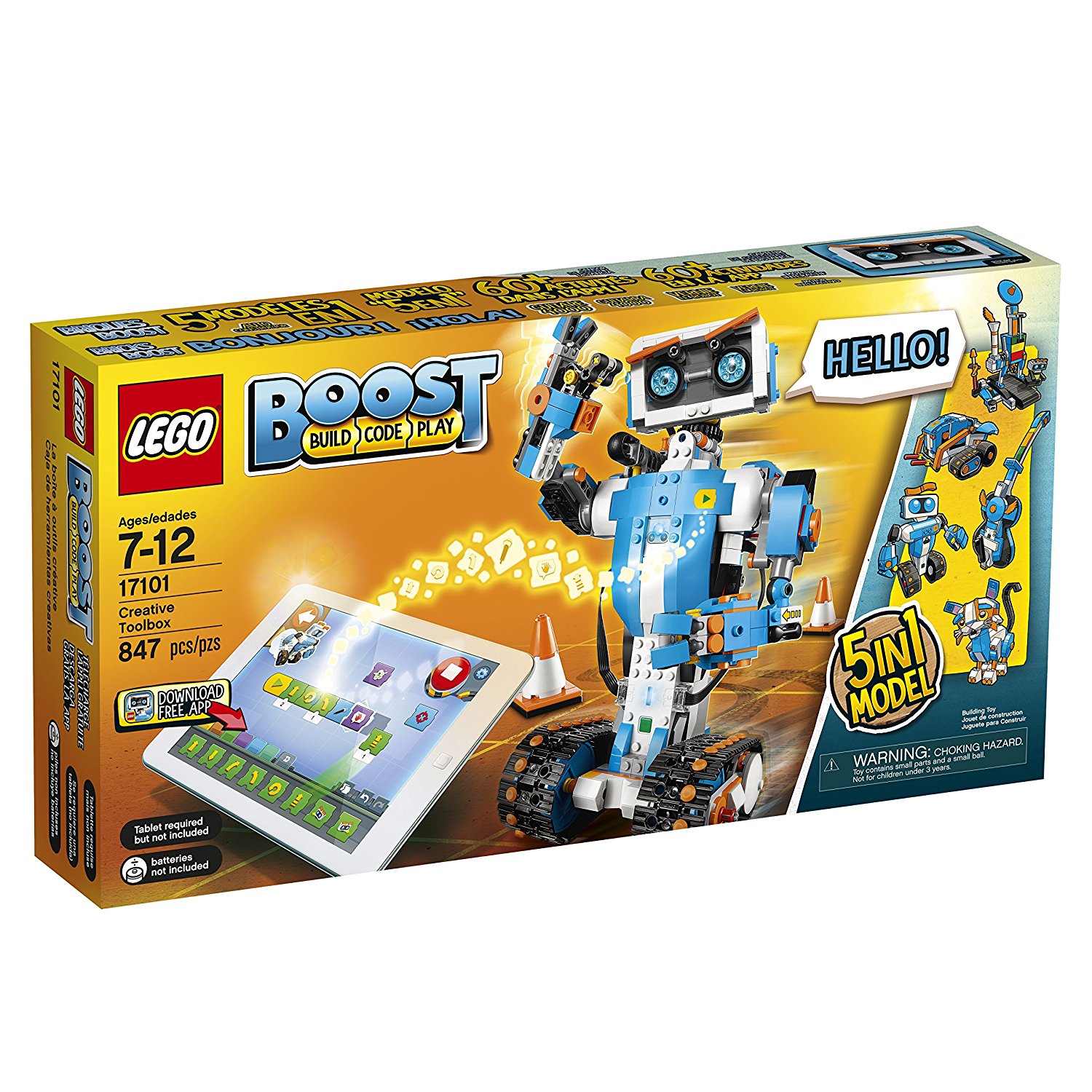 Lego Creative Boost Toolbox Buy Now From Amazon, It Will Be Popular
LEGO aficionados and those just beginning to appreciate LEGO's fun and versatility will be enthralled by all they can create with the LEGO Boost Creative Toolbox. Your kids will learn all about robotics, coding, mechanics and other forms of advanced technology while having fun creating robots and other creatures.
The 847-piece building kit includes a LEGO move hub that features low energy Bluetooth, two encoded motors, an ability to connect, an activation button, light and internal tilt sensor.

The kit also contains building instructions for five LEGO models that are included with the free LEGO boost application. The move hub has a color and distance sensor that can function as a light and also detect color, motion and distance. 
Lego Creative
Illustrated  At The Toy Fair NY
Read Our Review Before You Buy

You must have a compatible tablet - iPad or Android - for LEGO Boost to download instructions and to ensure it works properly. You can visit the LEGO website (www.lego.com/devicecheck) to see if your tablet is compatible. The Bluetooth setup makes it fast and easy (no pairing on iOS).
After you download the app, the fun begins. First download the free tablet app to your device. You'll see easy, step-by-step instructions to get you started enjoying this wonderful toy.
Now you're ready to put your robots together and get them coded. Choose from any of the five models. Vernie the Robot talks and moves, M.T.R.4 is a multi-tooled Rover4 that comes with four tool attachments – one being a shooter that spring loads.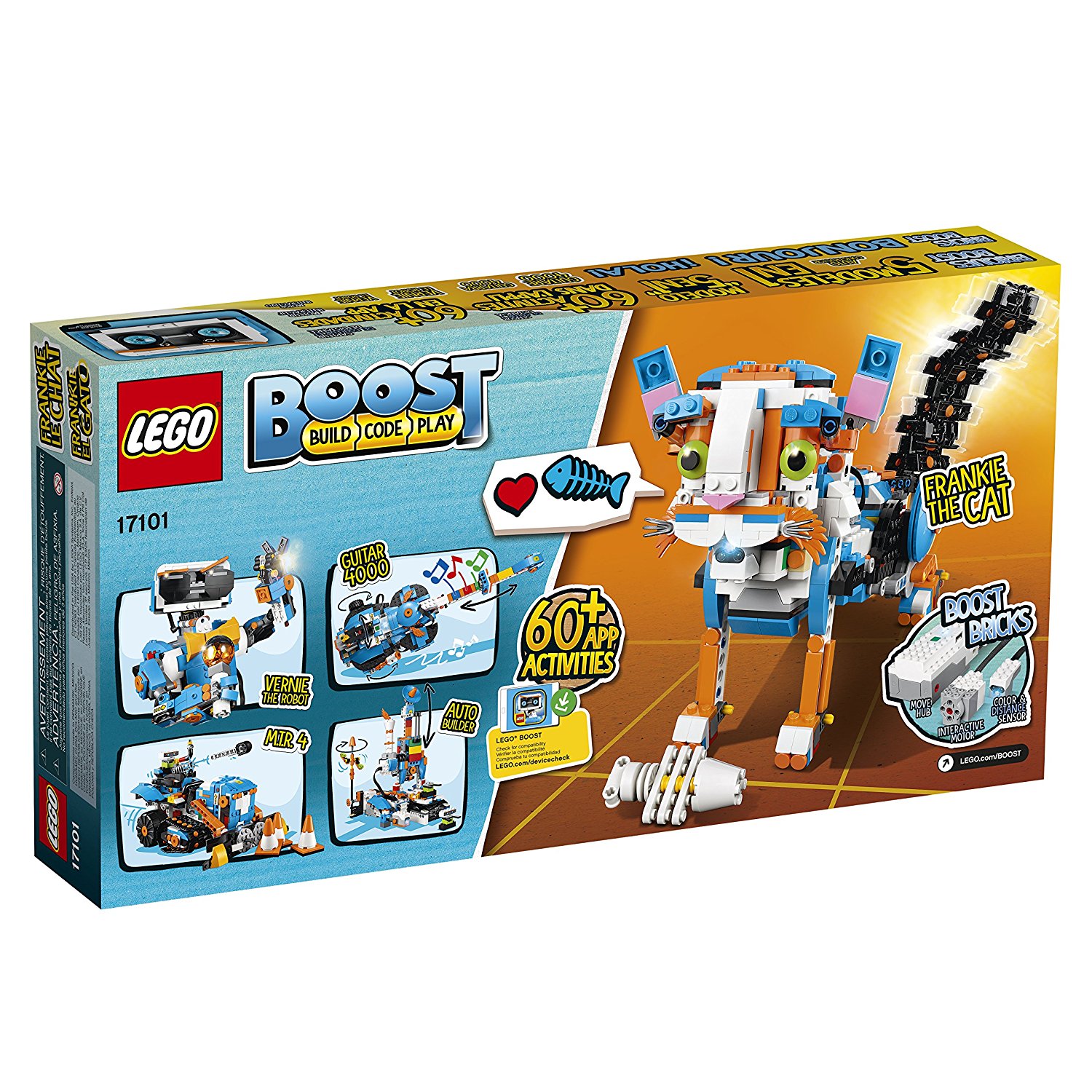 Lego Creative Boost Toolbox Buy Now From Amazon, It Will Be Popular
The Guitar is another model you can build and enjoy with the LEGO Boost Creative Toolbox. It's a pitch-bent instrument that's musical and has some incredible sound effects. Frankie the Cat is a pet that will show you its mood – playful or purring.

The Auto Builder is the fifth model you can make and you can build it on a production line that works automatically. The real production line actually produces little, tiny LEGO models, so you get a real taste of how automation works.

A huge assortment of great parts for the models ensures that the process is easy and fun – and your child is able to build an assortment of intricate projects immediately. The LEGO Boost app gently leads you through the programming and building of the models – with a few challenges as you move along.
The LEGO Boost Creative Toolbox provides a unique coding experience that can bring your child's creations to life. And each model has an assortment of thrilling activities to make it even more fun and challenging.
A play mat is included in the set for you to use with various activities the models may engage in – and you'll also receive a LEGO Boost wall poster. For value, fun and a great learning experience, you can't beat this LEGO Boost Creative Toolbox toy.
10 Of The Hottest Toys From The Toy Fair
Held In New York This Year.
Reviewed To Help You Decide To Purchase Or Not

To Help Busy Mums and Dads Here Are Some Related Shopping Items
When you purchase from this link, you are actually purchasing from Amazon.com, and you can have peace of mind that your order will be processed by Amazon's secure order server.