A Great Card Game
The Happy Salmon Game
One Of The Hottest Toys From
This Years Toy Fair New York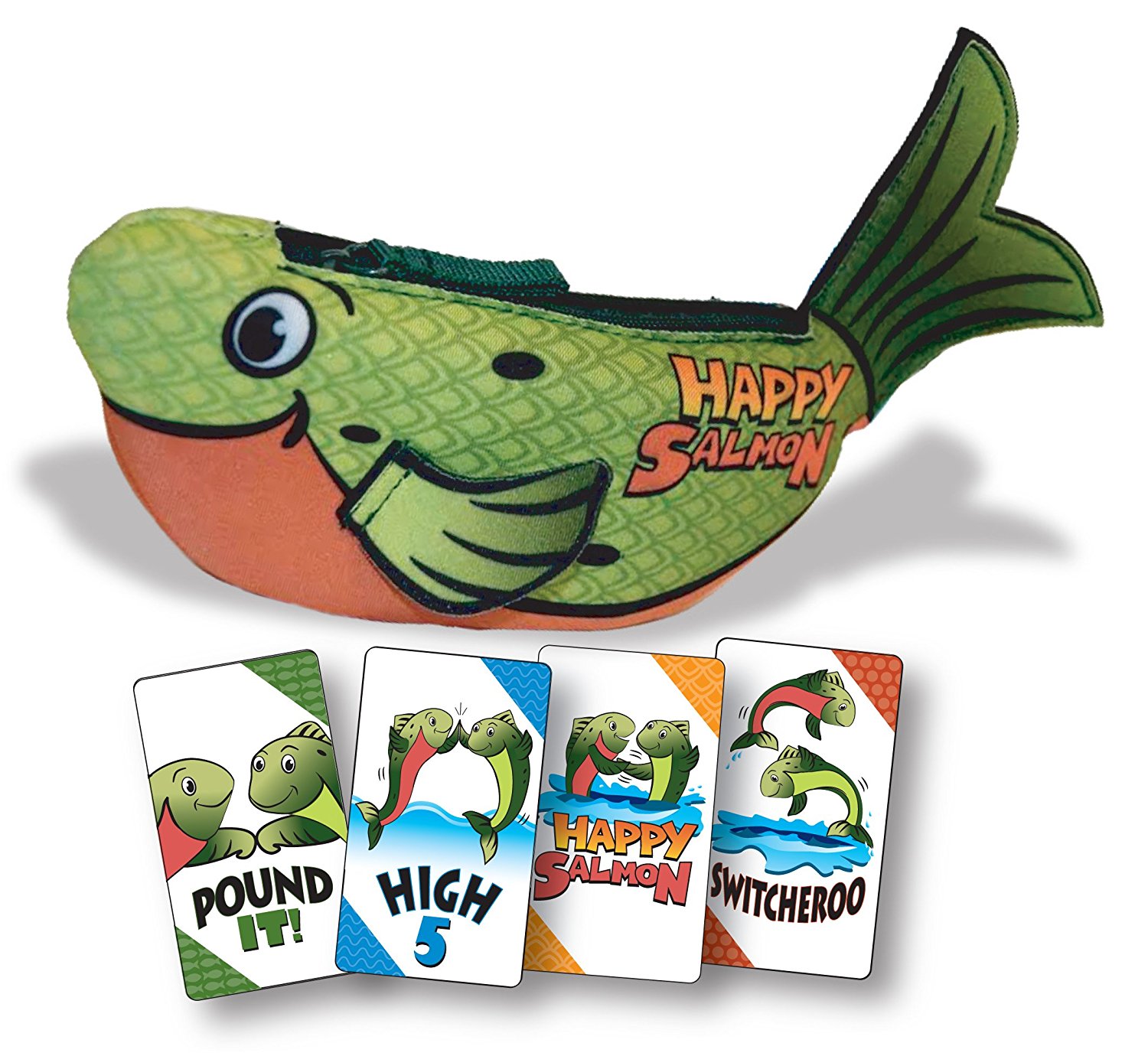 A Great Card Game The Happy Salmon. Buy Below From Amazon
The Happy Salmon Game by North Star Games is a great card game to introduce to 6 year olds and up. Three to six players can enjoy this fast-paced game that will bring excitement and lots of laughter to play time.
Various types of games have been use for decades to educate and promote healthy motor skills in children – including eye-hand coordination. Games have now become sophisticated instruments of teaching rather than simply an activity to fill time.

Studies have shown that games can lower the anxiety that children often experience in school or other teaching sessions and make them more open to expressing themselves and learning when it's fun and fast-paced.
An Inexpensive, Highly Entertaining, Great Card Game
Games can be highly motivational and very entertaining so that even shy or reluctant students feel excited about having the opportunity to openly express their own feelings and opinions.
Within the classroom, games are sometimes used as a diversion to the normal classroom style of teaching. They serve to help the children relax and speak up about their ideas and also to help them learn faster and remember what they've learned.

Most teachers understand that games can be an incredible tool for learning, but some consider them a "time filler" at the end of a lesson. Recent studies indicate that games can be much more than simply entertainment for kids and should be used frequently to add diversity and fun to the classroom.

A Great Card Game Reviewed For You. One Of The Hottest Toys From This Years Toy Fair Held In New York
With the Happy Salmon Game, you'll get 72 cards, a rulebook and a happy salmon pouch to carry the game intact wherever you go. Kids will have a ball learning the moves of the game which include the "high 5", the all-together "pound it", the heart-racing "Switcheroo", and the fun "happy salmon handshake" - which will make the players roll with giggles and delight.
It's an easy game to learn. The players call out the action that appears on the top of their cards and when two players can match that action those players perform it together.

The top card is then discarded and the next player looks for another match. Play on until one player matches all the cards in the deck and is declared the winner. It's silly and uplifting fun that the entire family can enjoy.

Games are a great way to entertain kids and to bring the family together to enjoy some mental and physical stimulation. The Happy Salmon Game will keep your family moving and mentally alert for hours.

The Happy Salmon Game can be a welcome diversion for your family to spend enjoyable moments together -- making memories rather than devoting all their attention to a cell phone or computer.
10 Of The Hottest Toys From The Toy Fair
Held In New York This Year.
Reviewed To Help You Decide To Purchase Or Not

To Help Busy Mums and Dads Here Are Some Related Shopping Items
When you purchase from this link, you are actually purchasing from Amazon.com, and you can have peace of mind that your order will be processed by Amazon's secure order server.