Saint Valentines Day Crafts & Fun Activities
Make a Lesson Out Of Valentine's Day
Valentine's Day is all about L-O-V-E. While love comes completely naturally to children, it can be a difficult concept for some adults. After all, we cannot physically touch, see, smell, hear or taste love. But we sure can feel it! Maybe not with our hands, but we feel it. Everyday, in everything – especially when we have children. Valentine's Day is the perfect opportunity to talk with your children not only about love, but other feelings as well.
Help Your Young Child Express Their Love With These Saint Valentines Day Crafts & Activities
For Saint Valentines day crafts and activities, fix a snack for the children and gather around the table, announce that you want to talk about feelings. If you have older children, this statement may make them groan.
Tell your children that Valentine's Day is coming as that it is a special day for love. Ask your children what they think love means. Love means…"hugs and kisses", "family", being nice".
Ask your children if they can touch love, if they can see love, if they can smell love, if they can hear love or if they can taste love. You may get blank confused faces or some fun, silly answers! Explain to your children that love is a feeling, it may not be something you can use your five senses on because love itself is invisible, but that it is always there. You can touch love when someone hugs you, you can see love when someone has a smile on their face, you can smell love when Grandma is baking a cake, you can hear love when someone says something nice.

Valentine's Day is an obvious opportunity to talk to your kids about love. Don't miss the chance to teach your children about other feelings as well this Valentine's Day.

Make An Old Fashioned Scroll
For Saint Valentines day crafts and activities
Scrolls to Declare Their Love
Back in medieval times people showed their love through declaration.  In order to do this they made a scroll that declared their feelings on the paper of the scroll.  Preschoolers can make the same declaration to parents or grandparents with a little help from you.
Using a long sheet of white paper, two empty paper towel (or tissue paper) rolls, crayons, stickers and glue sticks children can create a Valentine's Day card like no other.
First, let the children decorate a piece of paper.  Let them use crayons to draw pictures or color designs.  Stickers also work well when it comes to decorating their scroll.  Have Valentine stickers they can use and encourage them to decorate the whole paper with them.

Next, help them sign their names at the bottom of the scroll.  This will be their personal touch with a little help from you.
Once they are finished decorating and signing their names, attach one end of the paper around one of the empty towel rolls with the glue stick.  Make sure to tell the children to be careful not to smash the roll.
If you think this might be a concern and don't want any child to be upset or think they have ruined their card, place some newspaper inside the roll to make it more solid and easier for the children to work with.
Once the glue has dried enough to work with the paper without it coming loose, attach the other end of the paper to the other paper towel roll.  These will be the rollers of the scroll.  Be sure to let the glue dry well so the paper doesn't come loose while the children decorate their scroll.
Now show them how the scroll works by rolling the two paper towel rolls together.  The children will be so proud of their valentines.  Mom and Dad will be excited to see how their imagination worked to make them a card like no other.  It's one card that will be treasured for a lifetime.
Try This Teddy Grams Activitity
For Saint Valentines day crafts and activities
Valentine's Day Teddy Grams
Giving children something to enjoy for Valentine's Day besides candy doesn't have to be difficult.  Preschoolers still enjoy the simple things in life making it much easier to figure out the perfect gift that doesn't involve sugar.  Giving preschoolers Teddy Grams is a fun way for both of you to enjoy your gift.
Most dollar stores and even some department stores sell the little plastic teddy bears that have a slot cut in the front to hold a picture.
They aren't real expensive and come in many different colors.  Purchase enough of these for everybody your child can think of. Or you can give them to your kids, to tell them they are all special.

Instead of placing a picture in the front of the bear place a heart made out of construction paper.  On the heart put something special about the child who will be receiving it.  For instance, if you have a child who is always helpful tell them that on their heart.  It could be you have a child who has picked up on their numbers and knows them by heart.  If so, let them know you're proud of them for that.  Whatever the case may be children have something that's special about them.  This is your chance to tell them you appreciate that and want them to know it.

Decorate the bears with ribbons and bows if you would like.  Just be sure that you place the name of the child on the side of the heart that is facing out so you will remember which child gets which bear.

Not only will each child feel like they have a special place in your classroom but they will have a teddy bear to hold near and dear to their heart.  It's a good way to show them they mean something to you and you appreciate their hard work and dedication.
For St.Valentine's Day Give Them A Big Kiss
For Saint Valentines day crafts and activities
Give Them a Big Kiss
This has been set for slightly older children, because of the sweets involved.
Adjust for your age.Candy, candy, and more candy – that is a big part of Valentine's Day.  Making candy for the kids can be fun and of course there are all types of candy you can buy at the store for them to give out.  Doing something a little different may be the way to go with your preschoolers.  They like surprises but most of all they like giving out surprises.  Help them make a big kiss to take home to Mom and Dad.
Each child will need a large piece of aluminum foil, a one-inch strip of paper and a ribbon.  You will also need something they can fill their kiss up with.  Hershey's kisses are a great item to use.

Once they have their foil have them place four kisses in the middle of the foil.  Help them wrap the foil up around the kisses and twist the top.  On their strip of paper let them be as creative as they like. They can color pictures, place stickers or even print a message with your help.  Show them how to place the paper into the twist of the kiss just like a real Hershey kiss.  Now help them tie the ribbon around the kiss at the bottom of the twist.
Now they have a big kiss to take home for Mom and Dad.  Won't they be surprised to see what their youngster has created for them?  Best of all the children can give Mom and Dad the biggest kiss they have ever had for Valentine's Day.

Smiley Buttons
For Saint Valentines day crafts and activities
Smiley Buttons
Smiley buttons. Just the sound of that puts a smile on your face doesn't it?  Can you picture the smile your preschooler will have wearing one? They are pretty easy to make and worth every second of it when the kids are all proudly displaying their very own button.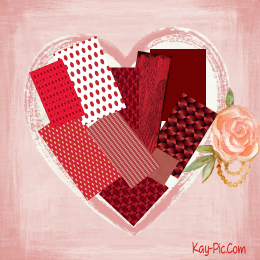 Simple Saint Valentines Day Crafts and Activities
Any color of construction paper even red or pink will work for this project.  First take the construction paper and help them cut out any shape they like.  It can be round, square, triangle or even rectangle. Just remind them it is a button for someone to wear on their shirt or jacket so they don't want it to be real big.

When they have their shapes cut out they can use valentine stamps to stamp to their hearts content.  Some stamps will have hearts or cupids on them.  Others may have little sayings like "Smile I love you" or "Be my valentine" on them.  Even smiley faces will work.  Remember these are made to make your preschoolers feel special and happy.
Once they have stamped their little heart out have them write their name on the back of the button.  This will keep them from getting them mixed up if they take them off and lay them down.

Attach Velcro or double sided tape to the back of the construction paper and their shirt or jacket.  Now everyone in your classroom has a smiley button.  With your child's own hand they have a button that will make everyone smile when they see it.
Try a Homemade St.Valentine's Day Basket
For Saint Valentines day crafts and activities
Homemade Valentine Gift Baskets
It's Valentine's Day and of course your nursery class is having a party.  There are cards, candy, cookies and games to be played leaving everyone with numerous amounts of goodies to take home.  Here's an easy way for your preschoolers to make a Valentine's Day gift basket of their very own to take the luscious goodies home in.
The first part of this project will need to be completed by you.  Start with as many paper bags as you have children in the class.  Each bag will need to be cut down to size.  Measure the bag from the bottom up to get the exact size you want the basket to be.  Then cut the top off of the bag.  Don't throw that top away!  You are going to use it for the handle of each basket.
To make the handle, fold the cut piece over and over to give it enough layers to be strong enough to carry the basket with.  You can also use a piece of cardboard cut the same size as your handle and placed in the center of the paper to make the handle even stronger.  If you do this be sure to wrap the paper around the cardboard and staple the paper to the cardboard to ensure it stays together.  Once you have the handle down to size, bend it so that it will fit on each side of the basket and have the curve from side to side.  Now staple the handle to each side of the bag.
After you have made the actual basket it's time for the children to do their part.  Each child can decorate their own basket.  Offer crayons, colored pencils, valentine's stickers, old valentine cards and glue to create their own unique basket.  Once the have decorated their basket have them put them aside until it's time for the party.
On the day of the party, be sure to add your own Valentine's surprise to each child's basket. You can place candy or even a small gift in the basket.  No need to go extravagant with their presents.  A few pieces of candy and some stickers or even a simple card are perfect.  Just make sure that their basket isn't empty.  What a great surprise when they go to get their basket to fill with all their cards and goodies and see someone has already left them a gift.
Making a Valentine's Day basket is pretty easy to do and can be a lot of fun for the children.  Not only will they have a craft they have helped create themselves, but also a wonderful way to carry home the great things they receive from each other on Valentine's Day.
Easy Jewelry Craft
For Saint Valentines day crafts and activities
Valentine's Day Jewelry Craft
Kids of all ages love to make things.  Preschoolers are always ready and eager to learn how to make crafts.  They also love to play dress up and wear fancy jewelry.  This Valentine's Day let your preschoolers make their own jewelry.  By using colorful beads and different types of candy your kids can have homemade jewelry to wear home and show off to their family and friends.
You can purchase different types of beads pretty cheap at a craft shop.  During holidays many craft stores will carry special types of beads catered to the holiday itself.  Try to find some beads that are shaped like hearts, arrows and maybe even little cupids and in as many different colors as you can find.  You can also purchase a roll of elastic string for very little at a craft store.
Go to your local dollar store and look for different types of candy that children can place on elastic string.  You don't want the candy to be too big and of course it must either have a hole in the middle or be thin enough to place a whole through.  There are many types of candy that come this way so you should have a variety to choose from.
Once you have all the materials, set your preschoolers to work creating their own jewelry.  Show them how to string the beads and candy on the string.  They can make a necklace or a bracelet but be sure to help them with cutting the right size string to fit.  Encourage them to make it colorful so it stands out when they wear it.  Also be sure to either tie off one end of the string, so their beads and candy won't slide off, or help them tape one end to the table so this doesn't happen.
When they have all the beads and candy on their string, help them tie the two ends together.  Be sure it's a tight knot that won't come apart if they pull or twist their jewelry while showing it off.
With a little help and the children's imaginations your preschoolers can make their Valentine's Day jewelry and feel like a million bucks wearing it home to show Mom and Dad.

Give a Special St.Valentine's Day Card
For Saint Valentines day crafts and activities
One Special Valentine's Day Card
Everybody gets a kick out of those cute little cards that come out every Valentine's Day.  Children love to go with Mom to pick out just the right ones to give to all their friends and family.  There's always that one special person though that children want to make sure get the perfect card.  It might be Mom or Dad, a grandparent or even you.  That card has to be just the right one and what better to make sure of that then letting your students design it themselves.
All you need is construction paper, colored pencils or crayons, valentine themed stickers and old Valentines Day crafts cards and paste.  Most of these things you may already have on hand.  If the cards are not available from years past, head to your local dollar store and purchase some cheap valentine's that you can use.

Show the children how to fold the construction paper to make a card.  Then set them on their creative journey.  Encourage them to be colorful and thoughtful in their decorating.  Let them use stickers and pictures cut out of the old cards to liven up their card.  They can attach the pictures with paste.
Have them decorate the outside and inside of the card.  Let them know they need to leave room to put any sayings they may want and a place to sign their name.  Of course you may have to help them write "I love you Mom" or Grandpa, You're the greatest" on the inside of their card but let them choose what they want it to say.  Young children can say what they mean in just a few words so it won't take long to help them accomplish this.
You can also let them cut those words from different cards or magazines and paste them in their card if they'd rather.  Also help them sign their name if they don't quite know how to do it yet.
Last but not least, be sure on the bottom of the back of the card you put the date.  These types of mementos are things parents and grandparents love to keep.  With a date on the back they can look at them for years to come and remember exactly when they received this special treasure.
Be sure to ask the kids about the response their special Valentines Day Crafts card received.  It will give them a warm smile to tell you about the hugs and kisses they got because they made something on their own for that special someone in their life.
Special Card Holders
For Saint Valentines day crafts and activities
Valentine Card Holders
It's Valentine's Day and you know those kids are going to have a bundle of cards to take home to show Mom and Dad.  How upset will they be if they throw them in their backpack to be crumpled or torn or if they lose them out of that folder on their way home?  Help them make a cardholder to carry their cards home in.  It's easy to do and your preschoolers will be happy to have their cards in one place and in perfect condition once they arrive home for the day.
For this St. Valentines day crafts, You will need a small box that can be closed either with a lid or flaps for each child in your preschool class.  Ask your local merchants if they can gather up some for you when they receive their shipments.  They don't have to be anything fancy because your preschoolers will be decorating them to make them their own.
You will also need construction paper, crayons, colored pencils and stickers for this craft.  Explain to the children exactly what they are making.  You can even make one with them to hold the cards you know they will be bringing you to show them how it is done.
Start by setting the box in the middle of a piece of construction paper.  You will probably have to help the kids cut the paper so they can pull the paper up and glue it to the box.  This is easy to do by cutting from the edge of the paper to each corner of the box.
After the paper is cut, place glue on it and pull up to attach to the box.  You can accomplish the same thing with a lid on your box.  Just be sure to place the lid upside down to cover it.  If the box has flaps, cut pieces of construction paper to fit each flap and glue it directly on the flaps.
Once the box is covered with the paper let your preschoolers go to town with decorating.  They can draw pictures and add stickers anywhere they like.  Let them use their imaginations in their decorating.  They may come up with some off the wall ideas but it's their box so let them have at it.
Once the box is decorated they will have a nice little cardholder to carry those valentines home in.  Not only can they show off their cards but they can show off their holder too.  It gives them a way to carry them home and a way to keep them all in one place once they get there.
St. Valentines day crafts and activities, hope you found what you needed?

To Help Busy Mums and Dads Here Are Some Related Shopping Items
When you purchase from this link, you are actually purchasing from Amazon.com, and you can have peace of mind that your order will be processed by Amazon's secure order server.