Toddler Craft Ideas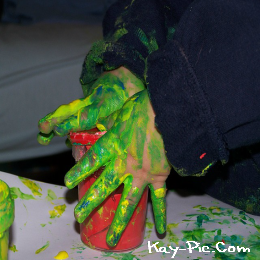 On this page you will find some creative yet inexpensive toddler craft ideas. All have been tried and tested on my Kids and others. Its up to you to make it simple or challenging for your young child. Only you know what they are capable of. Crafting with young children is fun for both you and the toddler. Just expect it to be messy, then you will not be surprised.

For Toddler Craft Ideas, Decorate Only Part Of A Picture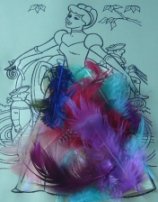 This suggestion allows your child free reign to be as messy as they like, while producing a picture that is still recognisable!
The idea is to decorate only part of a picture. In this example, I printed 2 copies of the Cinderella picture from
www.educationalcoloringpages.com onto yellow card.
Then I cut out the skirt from one of the 2 pictures. My son stuck coloured feathers from a craft kit onto the skirt, which I later glued onto the first picture of Cinderella.
Printing the picture onto coloured card ensured that the whole card was eye-catching - but you might want to try it on a plain white picture, for example a snow scene in a Christmas card.
Decorating Shapes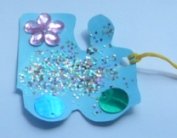 Draw round some shapes that are meaningful to your toddler, such as a train or bicycle.
She then paints or decorates (with stickers, beads, glitter etc) each shape.
These can then be used on a greetings card. Another idea is to hole punch individual shapes to make unique gift tags, as shown here.
More Decorative Shapes

Another way to create decorative shapes is to give your toddler a piece of card and some paint.
I recommend 1 colour only, or 2 that mix to form a recognisable colour. Give a young child a box of paints and they inevitably produce a lovely shade of dirty brown. (every time - without fail).
She then paints the whole sheet in this colour, or colour mix.
Once it's dry, you can then use pastry cutters etc to cut out shapes that can decorate plain wrapping paper, a photo frame or a picture.
One Colour Collage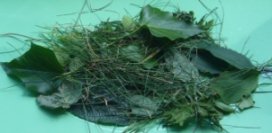 This is one of my favourite toddler craft ideas, and helps young children learn to identify colours.
First of all, I drew a simple leaf shape onto a piece of green card.
With my toddler, we then collected anything green we could find from the garden, all the time discussing what was/wasn't green.
He had great fun sticking what we had collected onto the leaf
To Help Busy Mums and Dads Here Are Some Related Shopping Items
When you purchase from this link, you are actually purchasing from Amazon.com, and you can have peace of mind that your order will be processed by Amazon's secure order server.