Sea Anenome Craft
An easy sea anenome craft to go along with a sea shore study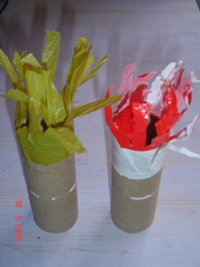 Set up
1 quick
2 planning required
Clean up
1 quick
2 mess involved
Age
1 12 - 18 months
2 18 - 24 months
3 24 + months
Sea Anenome craft help

You will need: empty toilet rolls, old plastic grocery bags (or cellophane paper), glue, scissors. This craft is best introduced to your toddler after a visit to the beach, aquarium or through a story book.
Cut off a strip of plastic/cellophane. Glue this to the top of your toilet roll. Cut the plastic bag down in strips until the top of the toilet roll to form the "tentacles".
More toddler help click here.

NEW! Submit your own easy toddler crafts!
Share Your Crafts!

Brag a little about your original toddler crafts!
Encourage moms like you!
Keep little ones busy.
Stimulate other mom's creative juices
To Help Busy Mums and Dads Here Are Some Related Shopping Items
When you purchase from this link, you are actually purchasing from Amazon.com, and you can have peace of mind that your order will be processed by Amazon's secure order server.