Toddler Painting Crafts
Toddler painting crafts - fun easy ideas for a little creative play.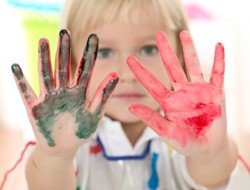 Set up
1 quick
2 planning required
Clean up
1 quick
2 mess involved
Age
1 12 - 18 months
2 18 - 24 months
3 24 + months
Toddlers and paint is not some moms idea of fun…I know there is a lot of cleaning up but if you choose a day when you have time and one when you can work outside for easy clean up, then it becomes a much nicer activity for you both.
Seed pods (Guidelines 1-2-2)
Collect seed pods on your nature walks.
Lay them out on a piece of newspaper. Mix up your tempura paints and let your toddler paint them. If they have stems tie them together with some string and hang them up in a window.
Butterfly Images (Guidelines 1-2-1)
This is a fun activity for all ages. Mix your tempura paints in 2 or 3 colours. Fold a large piece of paper in half. Show your toddler how to spoon a little paint onto one half of the paper not going over the fold. Then fold the paper in half on the original fold line and gently smooth over the outside and spread the paint between the folds.
Reopen the paper and you will have a mirror image on both sides of your paper. This activity is nice to repeat with a whole series of different patterns. Allow them all to dry (on a wind free day you can peg them to a wash line).
When they are dry, cut out butterfly shape wings while the paper is folded again on the original fold. If they are small then you can stick them on your child's bedroom window or if large on your allocated "art wall".
Have You Tried These Fun Toddler Painting Crafts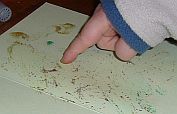 Finger painting (Guidelines 1-2-2)
This is a wonderful tactile activity for toddlers. You can finger paint onto paper or onto a smooth surface like a kiddie plastic table.
To make the finger paint:
1/2 cup cornstarch
3 Tbsp. sugar
1/2 tsp. salt
2 cups cold water
Food coloring
Mix all ingredients in a medium pot over a low temperature until thick and smooth. Allow to cool. Separate into smaller containers – the number of which will depend on how many colors you want.
Store well sealed in the fridge when not in use. This is perfectly harmless if your toddler puts some in their mouth, although not advised!
Splatter painting (Guidelines 1-2-2)
Got old toothbrushes lying around? Do these toddler painting crafts.
Mix up your tempura paints. Prepare your painting area but covering it with newspaper. Then lay out your white paper. Dip the top of the toothbrush into the paint. Then using your thumb pull back on the bristles. Your toddler may find it easier to use their other hand to do this.
You can also first lay out leaves and other solid items and then splatter over them to get a pattern underneath when you lift the item.
Be sure to take a look at my selection of paper plate masks which also are also toddler painting crafts and my box housekeeping corner activity
To Help Busy Mums and Dads Here Are Some Related Shopping Items
When you purchase from this link, you are actually purchasing from Amazon.com, and you can have peace of mind that your order will be processed by Amazon's secure order server.