Easy Homemade Toys
This page has some original ideas for homemade toys that anyone can put together, at minimal - even no - expense.
Although I created them all with toddlers in mind, many preschoolers and older kids will enjoy them too.
All of these toys make use of household items such as boxes and toilet rolls that would have got thrown out.
It's a good idea to start collecting a few of these items before you need them.
This takes less time than you might think!  
Stacking Tower For Homemade Toys
This is a simple tower that you build - but think giant Jenga. Working together, you and your toddler build a tower from the boxes. Of course the point is for the tower to collapse, and he will get really excited when this happens!
You can guide this activity by putting the biggest or smallest box on the floor first, and suggest boxes to add that create a stable or wobbly structure.
There are a lot of variations you can explore, but they all encourage hand-eye co-ordination and co-operative play, as well as experimentation.
4 In 1 Racetrack And Tunnel Run
When you have finished making your stacking towers, use some of the boxes for this racetrack.

This is a great homemade toy that I made up as I went along, and took about half and hour to put together. Because it has 4 parts, My son was able to play with one side while I was still making the others!
He loved it and it cost me nothing. Click here for full details of how to make it.
Puppets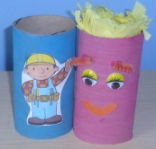 Yes, you can make puppets out of toilet rolls!

Puppets are truly flexible homemade toys that toddlers can use in different ways as they develop.
For younger children, you can entertain them by putting the puppet on your hand. Older children will enjoy holding them themselves. Follow this link for more details.
Snake
Cost Nothing - or the price of some string and (optional) children's paints, if you haven't already got these at home
What You Need: - 5 or 6 toilet rolls, string or twine, small piece of card, PVA glue, stapler (optional).
Preparation Time: - 30 minutes decorating the snake, plus 5 hours drying time, plus 10 minutes to string it together.
First, decorate the toilet rolls, which will become the body of the snake. You can paint these yourself or turn it into a craft session with your toddler.
I found that the basic children's paintbox paint was better than finger paint for this, and that darker colours such as purple and red take better.
You can also put stickers or other craft materials onto the snake - ditch the painting altogether if you like. You can buy stick on eyes from craft suppliers very cheaply - or just draw them on.
Make a simple tongue from card (or the back of an envelope) and stick it to the head with PVA glue.
Leave to dry, and then attach the string to the end of one of the toilet rolls. I stapled it in the middle of the roll. thread the string through, and out of the toilet roll that is the head. Leave enough string so that your child can pull the snake around.
This is one of those homemade toys that helps develop hand eye coordination, as the child makes it move around the floor in different ways. 
To Help Busy Mums and Dads Here Are Some Related Shopping Items
When you purchase from this link, you are actually purchasing from Amazon.com, and you can have peace of mind that your order will be processed by Amazon's secure order server.