Toddler Finger Foods
Toddler Finger Foods need not be elaborate and hard to put together. The goal is to allow your toddler some feeding independence while getting enough nutrients each day.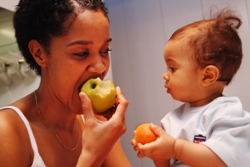 When I was a first time mom I used to look at recipe books specifically designed for toddler's taste buds. These were sensory delights, not only promising good balanced meals, but also that they were guaranteed to make even the most reluctant eater ask for more.
Did it work? Nope! I used to try everything to get my toddler to eat, making things in miniature, sneaking food into her while she played and other things, but to no avail. I was determined not to make food a battle ground so we left off the trickery and the elaborate meals and eventually she started to eat well.
There were some toddler foods that did us well through those days when it seemed that she was eating nothing and here are those simple easy recipes for you to try.
Very Easy Toddler Finger Foods
Mini Pizzas
Vegetable sticks
Homemade sausage rolls
Pigs in a blanket
Toasted cheese sandwiches
Peanut butter sandwiches in fingers
Mini Zucchini frittatas
Spinach and ricotta ravioli
Chicken strips crumbed and fried
Mini meatballs and a serving of spaghetti
Fruit salad
All of these were easy to prepare and enjoyed by our toddler as she was able to feed herself thus asserting her growing independence.
Toddler food allergies
Preschool Cooking Activities
Toddler food pyramid
Toddler easy finger foods
Special diets for toddlers
To Help Busy Mums and Dads Here Are Some Related Shopping Items
When you purchase from this link, you are actually purchasing from Amazon.com, and you can have peace of mind that your order will be processed by Amazon's secure order server.