Toddler Nature Study
Making Memories With Your Toddler
Tips on toddler nature study to make memories with your toddler that will fill their memory banks with wonderful things to think about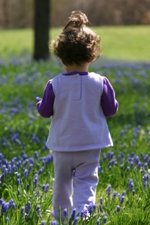 The other day when we were driving to a weekend getaway spot, my older daughter commented on a place we passed. She had an event stashed away in her memory banks of a trip we had done many years before when she was a preschooler.
This was almost 10 years ago, and I was stopped in my tracks at the vividness of her memories of that special trip we had all those years ago.
Often in our children's conversation they will bring up topics always introduced by "do you remember when…" or "do you remember that place…" from times when they were much younger.
Parenting tip
Part of toddler nature study is about seizing the moment. When my children were little I loved my routines as they gave me a way to keep certain areas of my life in hand when there were so many other variables happening at the same time due to the nature of parenting toddlers and babies.
But seizing the moment is also important. Whether it be pulling on wet weather gear and taking a quick walk during a break in the rain or stopping to look at a beautiful cloud formation, take those moments in hand and live life in full color with your toddler.
This is the age when you can gently "to drop seeds of truth into the open soul of the child, which shall germinate, blossom and bear fruit," Charlotte Mason wherever you are but never more so in being outdoors.
The Northern Hemisphere is heading into spring and you now have ample opportunity to seize every moment for toddler nature study and watch for the signs of new life around you. And for those of you (like us) that are moving into the colder times, enjoy the cooler weather but do not stop looking for the changes outdoors with your toddlers as the autumn hues start to appear!
More Help With Your Toddler Nature Study

You and your toddler nature study

There is so much to do when you have little ones isn''t there? But we as moms need to move beyond just getting things done to enjoying life with toddlers and all their enthusiasm and zest for living.
Making memories with your toddler can take any form from activities that you do at home, books that you read with them, nature walks that you take with them, or specific outings, weekends away or trips that you take.
A permanent addition to my nappy bag way back then was a camera for special outings and trips. But I also used to encourage my toddlers to take a photo with their mind. This is an idea that I got from Charlotte Mason an 18th century educator.
She says: "The miserable thing about the childish recollections of most persons is that they are blurred, distorted... and the reason is not that the old scenes are forgotten but that they were never fully seen."
Another tip that Charlotte Mason has for moms of preschoolers is that everyday (rain or shine) they should spend a large portion of it outdoors.
While my youngest is 7 years old, he still finds something to be delighted in everyday that he finds in our garden or in our walks. If you start this habit with your toddler when they are young, it will carry through into their teen years. My older three children are all avid naturalists in their own way due to our habitual nature walks starting from the time they were barely walking.
Character building
It is a tendency for toddlers out on nature walks is to pick flowers. They are so beautiful to look at and to touch. It is my opinion that they want to just hold that beauty and not be truly malicious.
I have also noticed that they tend to run at wildlife! Where we live we have a penguin reserve close by and I am always amazed how moms think it is funny to have their toddler's chase these birds. The same can be said at bunny parks and other touch farms.
Moms, please gently teach your toddler, during your toddler nature study about how to be careful with creation. Teach them to tread lightly, touch softly and walk slowly in their environments. Often it can be a matter of personal safety too as well as being kind to animals and their environment.
We used to have a saying for our toddler nature study walks: "Leave only your footprints, take only your memories".
Craft & Activity
Start a toddler nature study journal with your child.
Moms of 1 year olds, this is not really for you, but your toddler may enjoy some of the ideas in this activity.
You will need:
Two pieces of strong card or natural paper.
Wax crayons
White paper
Selection of leaves from your garden
Access to a tree with rough bark
Two hole punch
Raffia or string
Show your toddler how to make leaf rubbings by turning the leaves upside down and placing a piece of paper over it. Then using the wax crayon on its side gently rubbing all over the leaves. If you do know the names of the plant write them next to each leaf or use one page per leaf.
Then go outdoors to the selected trees and do bark rubbings by placing the paper on the bark and using your wax crayon.
Once you have done this a few times (possibly not all on the same day) you can bind the pages together using the card for a front and back cover and the raffia to tie it.
Add a photo of your toddler on the cover and write their name on it.
Make a memory book
Have you ever wondered what you can do with all those extra photos you took at outings and holidays that were not good enough for your albums?
Most chemists and photo shops either give away (or sell for little) little albums that you can slide your photos into.
Sit with your toddler and enjoy looking through those photos and choose some with your little one to make their own memory book.
We allowed out toddler full access to their memory books and were alright with them being handled to the point of becoming well and truly dog eared as this is designed to be their book.
Bible link for moms
The whole world is feeling the effects of a downward trend of the economy and this may make some anxious. My husbands business, being in the mortgage industry, has also been affected but as we look at creation around us - the birds of the air and the flowers of the field we remember Jesus's promise to us:
"Look at the birds of the air; they do not sow or reap or store away in barns, and yet your heavenly Father feeds them. Are you not much more valuable than they?...See how the lilies of the field grow. They do not labour or spin. Yet I tell you that not even Solomon in all his splendor was dressed like one of these. If that is how God clothes the grass of the field, which is here today and tomorrow is thrown into the fire, will he not much more clothe you, O you of little faith? So do not worry, saying, 'What shall we eat?' or 'What shall we drink?' or 'What shall we wear?' For the pagans run after all these things, and your heavenly Father knows that you need them. But seek first his kingdom and his righteousness, and all these things will be given to you as well.
So as you do your nature walks and activities during the next season, be sure to meditate on these verses from Matthew 6.
To Help Busy Mums and Dads Here Are Some Related Shopping Items
When you purchase from this link, you are actually purchasing from Amazon.com, and you can have peace of mind that your order will be processed by Amazon's secure order server.