Toddler Birthday Party Ideas

General Toddler Birthday Party Ideas

To a toddler, a balloon, 2 people and a piece of cake can easily make a party. You do not need to invite everyone at your child's nursery.
It is worth considering a different venue if you want a large gathering or you have particularly boisterous children. My son was going through an aggressive stage around his 3rd birthday, and we hired the local community hall for only £18 (35 $US).
The extra space meant he had room to let off steam, and his behaviour improved.

Other toddler birthday party venues are a picnic in the park or a soft play area.

If you have a camcorder, a party is a good opportunity to make a film for relatives who live far away and cannot be there.
1st Birthday Ideas

2nd Birthday Ideas

By their second birthday, toddlers have become more assertive, but still have no real grasp of what a party is.

Behaviour problems may be at their peak at this age - but don't let that stop you celebrating. Why not invite only 1 or 2 other toddlers - your child is hardly going to wonder why the guest list is so short.

You may want to include some party games (especially if older toddlers are invited), but it's really important to let the children have some free play.
Pictured here above was my son Louis' 2nd birthday party. We had a small party in the garden with lots of toys and not a single organised activity. It was the perfect way to celebrate.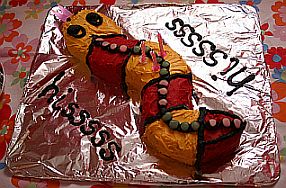 Most toddlers will understand what parties are all about, i.e. fun, cake and presents. The chances of them getting over-excited are roughly 110%. This means that organised party games are recommended for some of the time - but space them out.

This was how my son's 3rd birthday party ran:
2pm - The children arrived. Everyone brought a toy and enjoyed free play (shy children felt more at ease arriving while everyone was doing their own thing).
2.30pm - Organised games
2.45 - Food
3pm - More games
3.15 - Free play
3.30 - Sang 'happy birthday' and ate cake, more free play.
4pm - End of party.

Hope you have found these toddler birthday party ideas a good starting block.

To Help Busy Mums and Dads Here Are Some Related Shopping Items
When you purchase from this link, you are actually purchasing from Amazon.com, and you can have peace of mind that your order will be processed by Amazon's secure order server.