Homemade Christmas Cards

For Toddlers To Create
Help your toddler create some homemade Christmas cards, and save yourself money in the process. Get your little one into the festive spirit.
I have made all of the cards shown below with my toddler, and they require only simple craft materials such as PVA glue, glitter and metallic paper.
The great thing about making your own cards is that once you've followed a few designs, you can't help but get creative and start to come up with ideas of your own.
Easily Change The Look Of Your Homemade Christmas Cards

How can you adapt the designs you see on this page? Could you add any photos for example?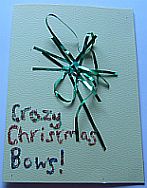 It is a good idea to buy a set of blank greetings cards, especially if you have quite a few to send. If you shop around these can cost as little as 10p (20 US cents) per card. Of course, if you want proper festive colours like red and green, these will cost more.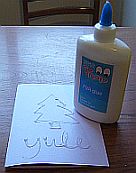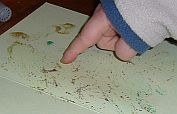 Here are some homemade Christmas cards that we created:

By far the easiest of all homemade greeting cards for Christmas to make is a simple glitter card.
All you need to do is take some PVA glue and draw the desired design on the card in glue, as shown here in the photo.
Use the sort of glue bottle pictured, as this makes it straightforward. Choose a simple design like the tree on this card.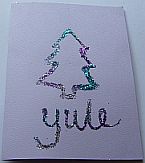 Next your child sprinkles glitter all over the card. It is best to use special sprinkle tubes of glitter (with a design like hundreds and thousands lids), rather than just pour the glitter out.
Children can be heavy-handed, and dump the whole lot all over the card if you're not careful.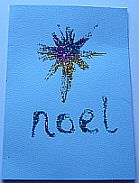 Here is another variation on the yule design, using the same technique.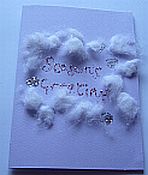 You can mix glitter with other craft materials such as cotton wool to create a snow effect...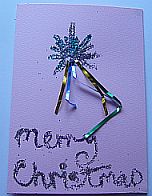 ...or shredded metallic paper. It can be used to make the tail of a shooting star as shown here...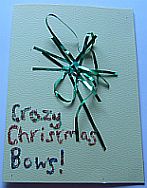 ...or a bows and ribbons effect. I put a thick blob of glue in the centre of the card, and my son grabbed a handful of the metallic paper and just pressed it onto the card.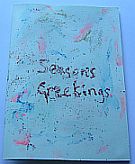 I have included this card not because it looks pretty (not particularly), but because it was my son's favourite one to make. I put some blobs of glitter glue on the card, and he just spread it all around with his finger. It might look a bit of an arts and crafts disaster, but in terms of enjoyment and free creativity, this was the best card from his point of view.
To Help Busy Mums and Dads Here Are Some Related Shopping Items
When you purchase from this link, you are actually purchasing from Amazon.com, and you can have peace of mind that your order will be processed by Amazon's secure order server.