Toddler Sibling Rivalry
Teaching Toddlers Patience
Moms need to help their toddler sibling rivalry to diminish through wise kind instruction. Use these toddler parenting tips to help your toddler learn patience when you have to deal with a newborns needs.
I was recently very blessed being with a friend soon after the birth of her second daughter. It brought back such sweet and tender memories of my days with newborns.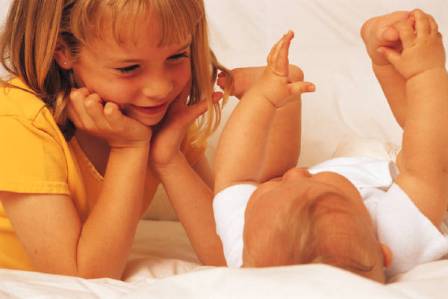 A common fear with moms expecting their second child is related to emotional side of being a mom. Will my toddler cope with a new addition? What will my feelings be for this next little human be compared to the way I felt about my first child?
This article will help expectant moms through those feelings. But even if you are not pregnant now, read on...I have some great ideas for you and your toddler to prepare to welcome a sibling as well as how to foster good toddler baby relations.
Siblings
Contrary to what many will tell you, bringing a second baby home need not be a stressful occasion for a first child. It is my opinion that many parenting books and websites talk moms into a panic about toddler sibling rivalry, regression and jealousy between a toddler and a new baby.
A mom who is sensitive to her toddler before baby arrives, will continue to be sensitive with her toddler after baby is born. This simply means that you will be sure to spend time with your toddler as you did before, but perhaps just at a different time of the day.
You will continue to do the activities and outings that you can fit in by some clever juggling and planning so as not to add new stresses into your days.
Involving your toddler in your pregnancy and preparations for baby will acclimatize your toddler for the change that is about to come, and may prevent any signs of toddler sibling rivalry.
Once baby is here, hospital visits (if you do not home birth) are a good time to transition your toddler. We had a little gift waiting for our toddlers at the hospital which was a baby doll with a change of clothes. (Yes, boys and girls got a baby doll in our home.)
You and your toddler
When you add anything new into your toddler's routine, including trying to mesh two sleeping and feeding schedules, there is always a period of adjustment. Quiet days at home are a prerequisite for everyone to adjust.
You are much busier than before, still having to do the same amount of things but now your time is shorter as you have feeds, sleeps and nappy changes to fit in. Doubling up on time spent is a great way to get everything done.
For instance, you can read to your toddler while you nurse your baby. This was always one of our favourite times together. Except for the night time feeds I always read to my older children. This kept them within eyesight therefore out of trouble and kept them entertained in a quiet way.
Need Help With Your
Toddler Sibling Rivalry

Character building activity
Learning to wait becomes an important character trait around the time that you welcome a new baby into the home. Patience is not something that comes to toddlers naturally, but it is something that you can teach them in non conflict times.
One idea I have on my website is the patience game. Scroll down until you come to it.
In our home we always expected the toddler to wait if both toddler and baby needed help at the same time. We used a key phrase, like "Wait, Suzy, Mommy will be with you shortly. Be patient."
So if you had introduced patience in a game like the one mentioned above, they would have context for the phrase.
Be sure that you do not make your toddler wait unnecessarily as this breaks trust. Also do not use the word "wait" all the time as this desensitizes them to it's use and effectiveness.
Craft
If you are expecting a baby make a date chart with your toddler. This is best done in the last month otherwise it is too long to hold your toddler's attention.
Print out a calendar for the next few months from http://www.printablecalendar.ca/
Stick on your ultrasound pictures on the days that you get them. (If you are making a baby album and want to keep them for that, just make a photo copy).
Let your toddler stick a star or smiley face sticker on each day as it passes.
A great website with a week by week progress on your pregnancy can be found at Easy Baby Life.com pregnancy week by week pages.
Bible link for moms
Patience is something that moms often need too. I have heard it said that like most character traits it is "taught, not caught." Patience that is modelled by mom is mimicked by the toddler.
When you respond to your toddler sibling rivalry with patience, even when they are troublesome and fussy, you are reinforcing patience. Controlling your knee jerk reactions to a demanding toddler is another way that you can exhibit patience towards your little one. Galatians 5:22 - 23 says: "But the fruit of the Spirit is love, joy, peace, patience, kindness, goodness, faithfulness, gentleness and self-control. Against such things there is no law."
If you battle with impatience (in the car, with your husband, with your children) then pray and ask our faithful Father God to come alongside you and teach you patience as you parent your children.
I hope this article on toddler sibling rivalry has been of help, let me know your suggestions.

To Help Busy Mums and Dads Here Are Some Related Shopping Items
When you purchase from this link, you are actually purchasing from Amazon.com, and you can have peace of mind that your order will be processed by Amazon's secure order server.