Easy Crafts For Your Toddler To Enjoy And Learn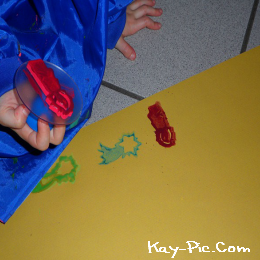 The easy crafts for Toddlers,suggested below;
Require no artistic ability but let your toddler explore his creative side;
Need little preparation, and cause the minimum of mess;
Are inexpensive. You need so few materials for every craft session, that they do last a very long time!
You can get surprisingly good results, even taking all these 'restrictions' into account. Read on and see for yourself.
Monitor at all times due to small parts.
Have A Tub Of Supplies Ready For Easy Crafts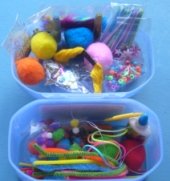 Costing a few pounds or dollars, simple craft kits contain many different materials that can be used for making cards, decorating boxes, livening up drawings - the list is endless.
A basic kit might contain these items, all of which can be glued on:
plastic eyes
mini foam hands and feet
multicoloured feathers
beads and thread
coloured pipe cleaners and lolly sticks
shiny shapes that can be glued or threaded
glitter glue
scissors and glue
They can get totally absorbed in something as simple as gluing them onto a piece of card.
All you need do is monitor the flow of glue!
Immediately after I bought my craft kit, I transferred the contents to resealable freezer bags, because the cellophane bags that the materials came in were just too flimsy.
Can't Draw Won't Draw

Your toddler will get even more enthusiastic about craft activities if it involves his or her favourite things. These shapes and pictures need not be difficult for you to produce. why struggle drawing them when you can:
Trace round items that are lying around the home, such as wooden trains and cars. Draw the outline onto card, then glue craft materials onto the silhouette. You then have a gift tag, or a decoration for a greetings card.
Print off or cut out pictures of TV characters from the Internet or magazines. Instead of making the green puppet shown at the top of the page, your toddler could stick pictures of Angelina Ballerina, Barney or Bob The Builder onto toilet rolls that they have painted and decorated.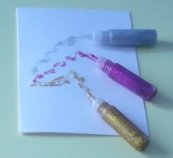 Glitter glue is a good alternative to traditional glitter tubes that have no holes in the top - you know, the ones where a cascade of glitter dumps itself all over the table and nowhere near your picture.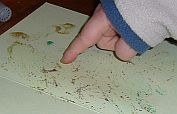 Glitter glue lets a toddler be really creative - they like to spread it around with their finger. It's the ideal way to let them get messy - but not too messy - and express themselves.
Card Kits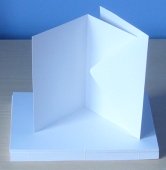 All of the above easy crafts for toddlers, make great ideas for greetings cards. A pack of plain cards and envelopes make life even easier.
These need not be expensive - I got this pack of 50 cards and envelopes for only $8, so shop around.
You never have to buy another birthday or thank you card again - simply make them using the straightforward techniques described above.
It also gets your toddler actively involved in giving - be it greetings or thanks. Older relatives especially will be touched by the thought - and never guess you got the inspiration from a page about easy toddler crafts!
To Help Busy Mums and Dads Here Are Some Related Shopping Items
When you purchase from this link, you are actually purchasing from Amazon.com, and you can have peace of mind that your order will be processed by Amazon's secure order server.